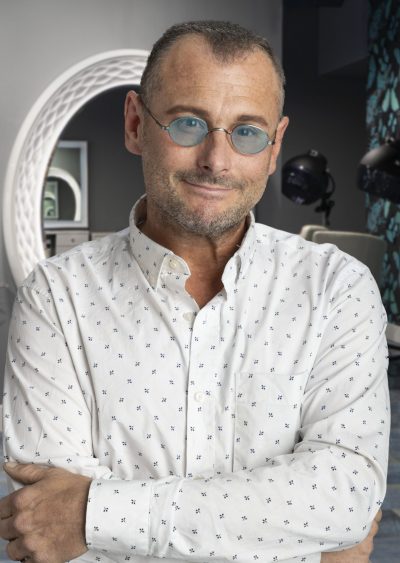 I began my career as a makeup artist almost 25 years ago in Hollywood. After graduating the Joe Blasco Makeup Academy, I acquired certification and licensing in: F/X Special Effects & Prosthetics, Custom Blend Color Cosmetics and Aesthetics. I spent my first professional ten years in theatre and television. I moved to Las Vegas in 1994 and became the makeup artist to many of the stars, appearing weekly on the Fox Channel Morning Show. During this time I worked as the regional and national makeup artist for Christian Dior and Guerlain Cosmetics and seven years as the lead makeup-artist at the world famous Canyon Ranch Spa in the Venetian Casino Hotel. I was also awarded ˜Makeup Artist of the Yea" by Las Vegas Life Magazine.
Seeking a change in climate, I moved to South Lake Tahoe, an area I have loved since childhood, in 2007. Here I continued to expand my skill base at Harrahs and Harvey's Casinos, specializing in Eyelash Extensions, Eyebrow Definition and Bridal Makeup (over 5000 brides to date).
In 2014 I returned home to Los Angeles and opened the Paul Fisher Salon featuring the MXP-Makeup By Paul studio. In 2019 I expanded and renovated my salon; adding Private Spa Suites, a Men's Barber Shop, a stunning salon remodel and a name change - now PF International. I am currently freelancing - focusing on editorial, film, fashion couture and bridal. I am also available my salon where I offer one-on-one Makeup Lessons, Express Lash Extensions, Lash Lifting, Semi-Permanent Mascara, Ear Candling, Detox Treatments and Anti-Aging Facials.

My clients include Paris and Nikki Hilton, Grace Jones, Rhonda Shear, Ruth Livier, Tia Barr, Tipper Gore, Jennifer Tilly, Jane Pauly, Charo, Susan Anton, Macy Gray, Crystal Bernard, Anna Nicole Smith, Tina Louise, Paula Abdul Linda Dora, and Devin Alexander from "The Biggest Loser. I have appeared on Oprah, Lifetime's "Wedding Story",The Morning Show, and Robin Leach's Penthouse Vegas on Fox, Extreme Makeover, KMTN. I have worked behind the scenes as the primary makeup artist on fashion shows and print ads for many design houses including Bebe, Ebel Watches, Brighton, Cache, Lane Bryan, Jimmi Choo, Mike Moto, Wolford, Pal Zaileri, Privilege, Chick Couture, Burberry Kenneth Cole, Kenneth Cole, Sacia O Couture, The Perfect Image, Design By Deverett, LMG Studio, J Beverly Hills, The Playboy Club at the Palms, and The Pussy Cat Dolls. I have also worked behind the camera on the faces of many men including Robin Leach, Vince Neil, Michael Flatley, Lance Burton, Rich Little, Pat Morita, Emeril Lagasse, Clint Holmes, The Scintas, Carrot Top, Walter Cronkite and Kindness Activist Gabriella van Rij.
I bring a passion for my art with a commitment to the needs and expectations of each of my clients.
Contact me directly to schedule an appointment or ask any questions.
Phone/Text: 310-803-7441
Email: makeupbypaul@icloud.com

Adrienne C - Paul is an amazing make up artist. He listens and you become the most important person in the world while with him. His make up line is customized and therefore is a perfect match to each person. He's fabulous!
Aleah K - Paul is the best makeup artist I've ever had the pleasure of doing work with. He's fun and his work is flawless. As a hairstylist you need someone whom can complement your work... Paul is the one. He offers a wide range of professional services that compliment every lifestyle. He knows his stuff!!!! Look no further. He's amazing.
Suvannah F - I had the best time at Paul Fishers Salon he did a perm black mascara treatment love love love it...and hanging out with Paul is a blast to say the very least...everyone at the salon made sure I had everything I needed.. I made my next appointment for next week... Can't wait for the next adventure at Paul Fisher Salon.